We offer a door-to-door service on all of our coach holidays. If you live within 15 miles of our depot in Haydock, this service is free as it is within our usual pick-up zone. If you live further afield, we can arrange for a door-to-door service for a supplement of £20 per person.
You will be informed of your pick-up time approximately 10 days prior to departure when we write to you with your luggage labels and final holiday details.
Our home pick-ups are usually done by taxi or 8-seat minibus, which will transport you to meet your main tour coach, usually at Burtonwood Services or our Haydock Depot.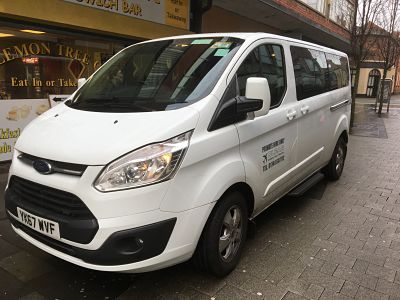 Hatton's Travel Luggage Labels
In order to facilitate this service, we supply you with colour-coded luggage labels which must be attached to any luggage that you want stored in the coach lockers. It is really important that these are clearly labelled and easily accessible so that our driver or Courier can check that your suitcases are on-board at the start and end of your holiday.
Walking Frames, Wheelchairs and Mobility Scooters
We are happy to transport these on the coach at no extra charge, as long as you have checked with us when you book. We can take folding wheelchairs and walkers in the coach lockers and we are able to transport 2 or 3 small mobility scooters that are collapsible. Please ask one of our staff members at the time you book to check the dimensions and weight of your mobility scooter. Should the coach be full, then it may no be possible to transport more than one scooter and you are advised to look at the possibility of hiring a scooter at your destination for the duration of your stay - we can help with this. We do have 2 scooters which are also available to hire on a first-come , first-served basis at £5 per day.