We pride ourselves on the service we give to our customers. Our drivers, mechanics, couriers, sales and admin team work hard to maintain this level of service and often go above and beyond!
We have a determined group of coach and bus drivers who strive to make your journey, however long or short, as enjoyable and comfortable as possible. In order that this can happen, the support team are always here to take bookings, fix problems and keep us and you up to date on all aspects of passenger transport and coach travel.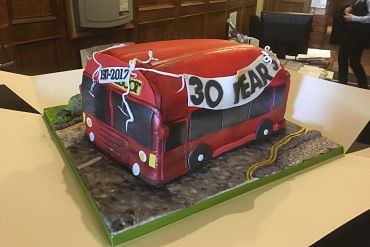 Hatton's were very proud to celebrate our 30th Anniversary in 2017. A great achievement for the family and workforce. Recognition of how hard we have worked to provide a quality service on a consistent basis.
The cake was made to replicate the first ever vehicle that Ken Hatton owned and which he used to build both the bus service and coach trip sides of the business.
As we move forward, we are constantly on the look out for new, motivated people to join us. If you like what we do and would like to become part of our team, please get in touch with us, send your CV and an accompanying letter or e-mail to This email address is being protected from spambots. You need JavaScript enabled to view it. .